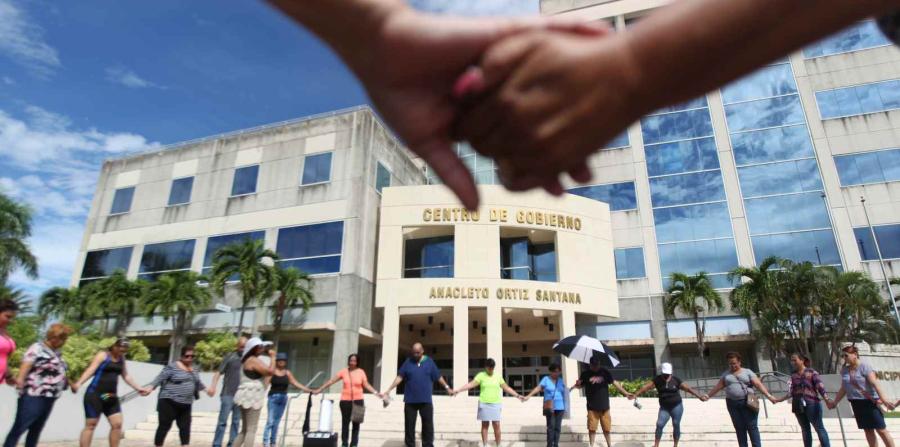 Toa Baja, a mid-sized city in Puerto Rico, shut down last Monday after failing to pay municipal employees for several weeks.  All public services have been suspended indefinitely. Could this be the future for other cities across Puerto Rico and on the US mainland?
Toa Baja, with a population of about 80,000 people, reported over $175 million in long term debt, according to its fiscal year 2015 financial statements.  This excludes $5.7 million in "Matured Bonds" – which were evidently in default. Meanwhile, the city's general fund – essentially its checking account – ended the fiscal year with a negative balance of $14 million.
The shutdown is not a surprise for many of us in Puerto Rico, as Toa Baja's finances have been deteriorating for some time. Back in 2004, the year before former mayor Anibal Vega Borges took over the municipality, Toa Baja had a positive general fund balance and less than $50 million in long term debt.  Over the next 12 years the city's debt increased by a whopping 250%, while that of the Puerto Rico Commonwealth "only" grew by about 65% during the same period.  Mayor Vega Borges was popular until recently, winning the 2012 election with 65% of the vote.  He lost the primary this year to a member of his own party. Although this is good news for the people of Toa Baja, the road ahead for the new mayor will not be easy, and the chances for Toa Baja regaining financial stability are slim.
Unfortunately for Puerto Rico, there are the many other cases like that of Toa Baja going unnoticed. Let's begin with Ponce, the Island's fourth largest city. According a Financial Index constructed by our Center for Integrity in Public Policy (CIPP), Ponce has consistently among the most financially distressed municipalities since 2010. The city has over $324 million in long term debt and a negative general fund balance of $38 million. One might think that a city like this would change its ways, but during 2015 Ponce general fund expenditures exceeded revenues by $14 million, representing a 15% budget deficit for the year. Sadly, the people of Ponce were not as proactive as the people of Toa Baja: incumbent mayor Mayita Melendez was just reelected with 50% of the vote, almost the same percentage she received in 2012.
The town of Maunabo is another good example, as it also has one of worst fiscal scores on our index. Maunabo mayor Jorge Luis Márquez has been at the helm since 2001 and was also reelected with 50% of the vote in this past election. Although Maunabo's long term debt of $18 million might not seem like much, it is substantial relative to its small population of 11,335 people.  And this is part of the problem in Puerto Rico: there are 33 municipalities with a population of less than 30,000 people. One might ask how these small municipalities finance their operations given Puerto Rico's ongoing recession. This is where the Commonwealth government has stepped in – providing 77% of Maunabo's general fund revenue in 2015. The municipality spends most of this aid on payroll. This includes the mayor's salary of $54,000 a year, a hefty number considering that the median household income in Maunabo is only of $17,866.
We anticipate that as soon as next year other municipios like Toa Baja will have to shut down and seek a bailout. At least 25 cities currently receive more than 50% of their general fund revenue from Commonwealth appropriations, and like Maunabo most of this money is spent on payroll.  Total long term debt for all municipalities surpassed the $5 billion mark in 2015, and this number has grown at a faster rate than the Commonwealth's debt.  Puerto Rico cities also have large public employee pension obligations that are not fully accounted for: many failed to implement new Government Accounting Standards Board pension reporting rules and all participate in a multi-employer retirement system that is 0% funded.
This municipal debt binge has gone unnoticed in the local and US media, with most of the attention going to the financial woes of the Commonwealth government and public corporations. But this situation should concern Puerto Rico's creditors because the Commonwealth spends so much money on cities like Toa Baja, Ponce and Maunabo. Last year, Puerto Rico's government provided over $500 million in grants and appropriations to the island's cities, irrespective of their financial management.  The Commonwealth also facilitates most of the cities' financing needs through the Government Development Bank – which recently became insolvent.
Municipal financial reform may not be possible within Puerto Rico's political system. Mayors are a powerful interest group so they make change in the Puerto Rico Legislature very difficult. Recently, a lame duck legislator offered a bill to consolidate municipalities, but the bill did not even receive a public hearing. Although we are happy that Toa Baja got a new mayor, most cities in poor financial health were not as lucky. Sadly, the new mayor in Toa Baja will probably not be able to save his city: it is too deeply in debt. Barring intervention from the new financial oversight board, it is likely that other Puerto Rico cities will be closing their doors in the months and years ahead.
Arnaldo Cruz is co-founder of the Center for Integrity and Public Policy (CIPP), a local think tank in Puerto Rico. This past October the CIPP published its third annual Financial Health Index, a measurement tool developed to allow peer to peer comparisons among Puerto Rico's 78 municipalities using standardized financial indicators. Citizens and other interested parties can go to CIPP's municipal scoring website at http://fiscal.cipp-pr.org to check 2015 fiscal rankings.